Last year just before the first lockdown we went to Sri Lanka and travelled around. This was an amazing trip! We would like to share our route for Sri Lanka and some travel tips with you. A few weeks ago we already posted about the highlights and must-sees in Sri Lanka, check out this article to read more about this.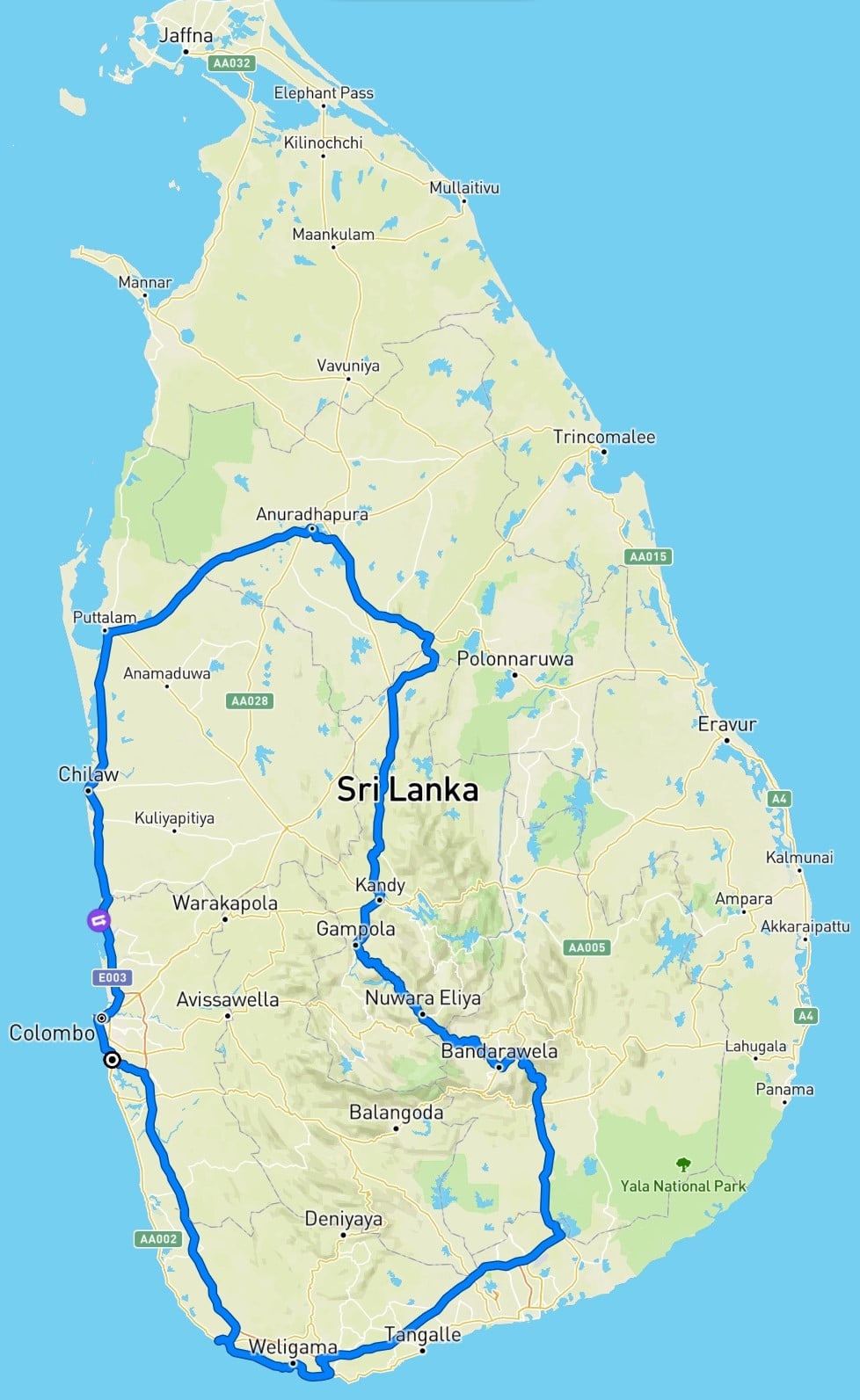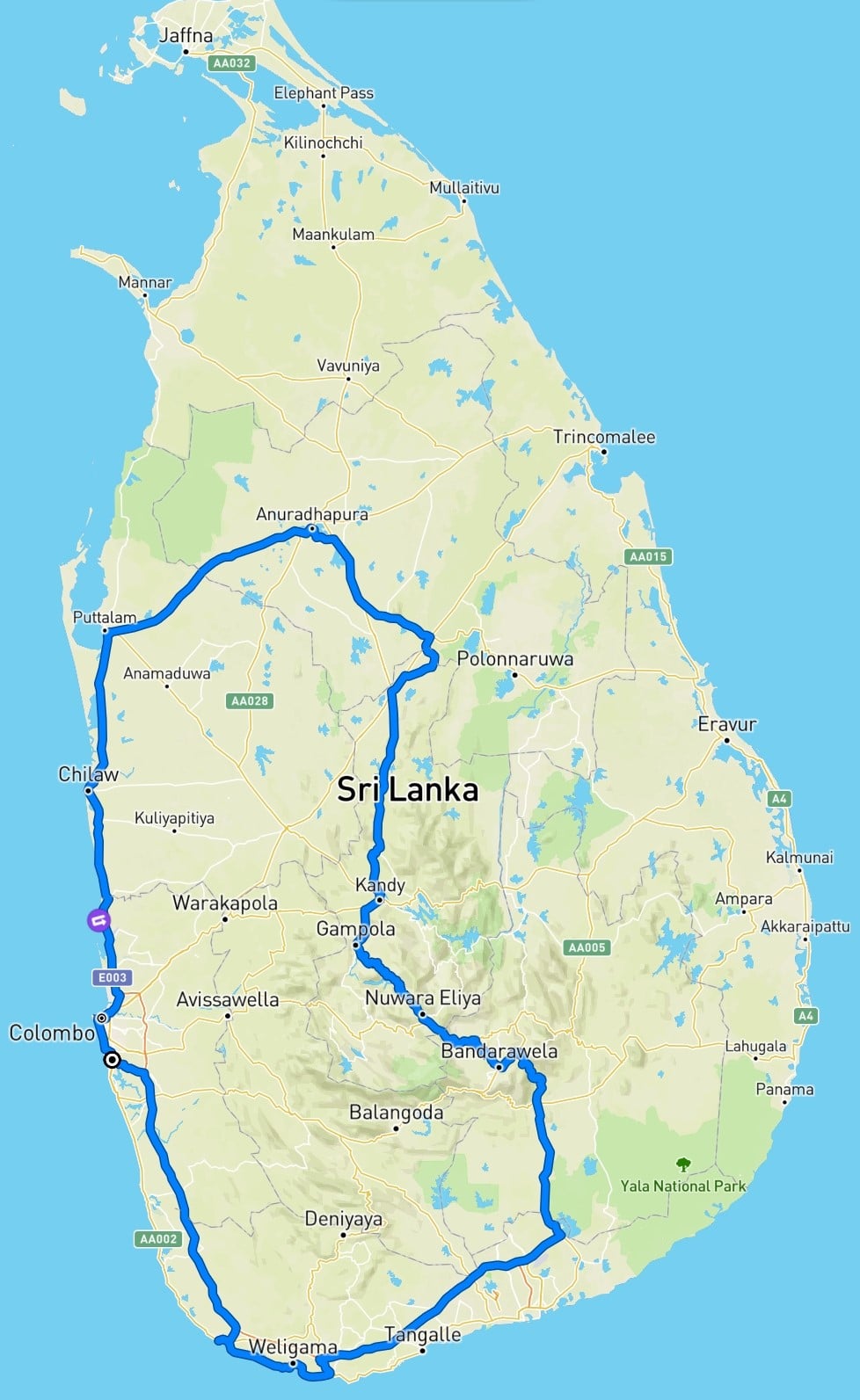 How to travel in Sri Lanka?
In Sri Lanka, you can travel by bus, taxi, car, train etc. We recommend trying different forms of transport so you can experience a couple of different facets of life in Sri Lanka. We loved travelling by train, you get to see a lot of beautiful views of surrounding nature and culture and it's a really affordable way to travel. There are however some disadvantages as well as it's slow to travel by train since it has a lot of stops and the trains make a lot of noise. We also took the bus, this is one of the cheapest ways to travel around and relatively fast. You may want to figure out which bus has the most comfortable seats for a reasonable price since there are a lot of different buses. The bus was… an experience, we sometimes had to stand for multiple hours and they keep cramming people in even when you think the bus is full.
The most comfortable way to travel is by car or taxi, this is not the cheapest way to travel, but it will get you from A to B fast while you're sitting comfortably.
Day 1 Negombo
We landed at the airport in Colombo and immediately travelled to Negombo by tuk-tuk. Just outside of the airport you can make a deal with a tuk-tuk driver. You have to be assertive and confident since they will often try and make you pay more. Think of a good price and try to stick to this, we would recommend sticking to about 40 LKR per kilometer. You can even walk away and try to make this deal with another tuk-tuk driver if negotiations don't work out. We agreed to a price with our driver and halfway there he said the route was longer than expected and asked for more. In the end, we paid the original price we had agreed on because we made a deal beforehand and we didn't give in. If you don't like to negotiate about the price you can also use an app to book a tuk-tuk, for example, PickMe.
Day 2-4 Anuradhapura
From Negombo, we travelled by taxi to Anuradhapura. The owner of the hostel helped us cut a deal to share a taxi with another couple staying at his hostel. We had a really nice ride there as we were talking to the other couple on the way there.
Day 5-6 Sigiriya
We travelled by bus from Anuradhapura to Sigiriya, we had to transfer one time and it only took us a few hours to get there. We went to the bus station early in the morning by tuk-tuk. Once there a local was friendly enough to help us find the right bus. Once you're on the bus you can buy a ticket from the personnel, they'll come to your seat to sell you the ticket. We'd recommend searching for information on which buses have air-conditioning, since not all buses are equipped with this and on a hot and busy day, you will want that air-conditioning.
Day 7-8 Kandy
From Sigiriya we took a bus to Kandy. We had to transfer one time from a more public bus to a smaller van. At first we thought this van would be comfortable, but the opposite was true. We sat on folding chairs in the middle of the aisle which really hurted our backs.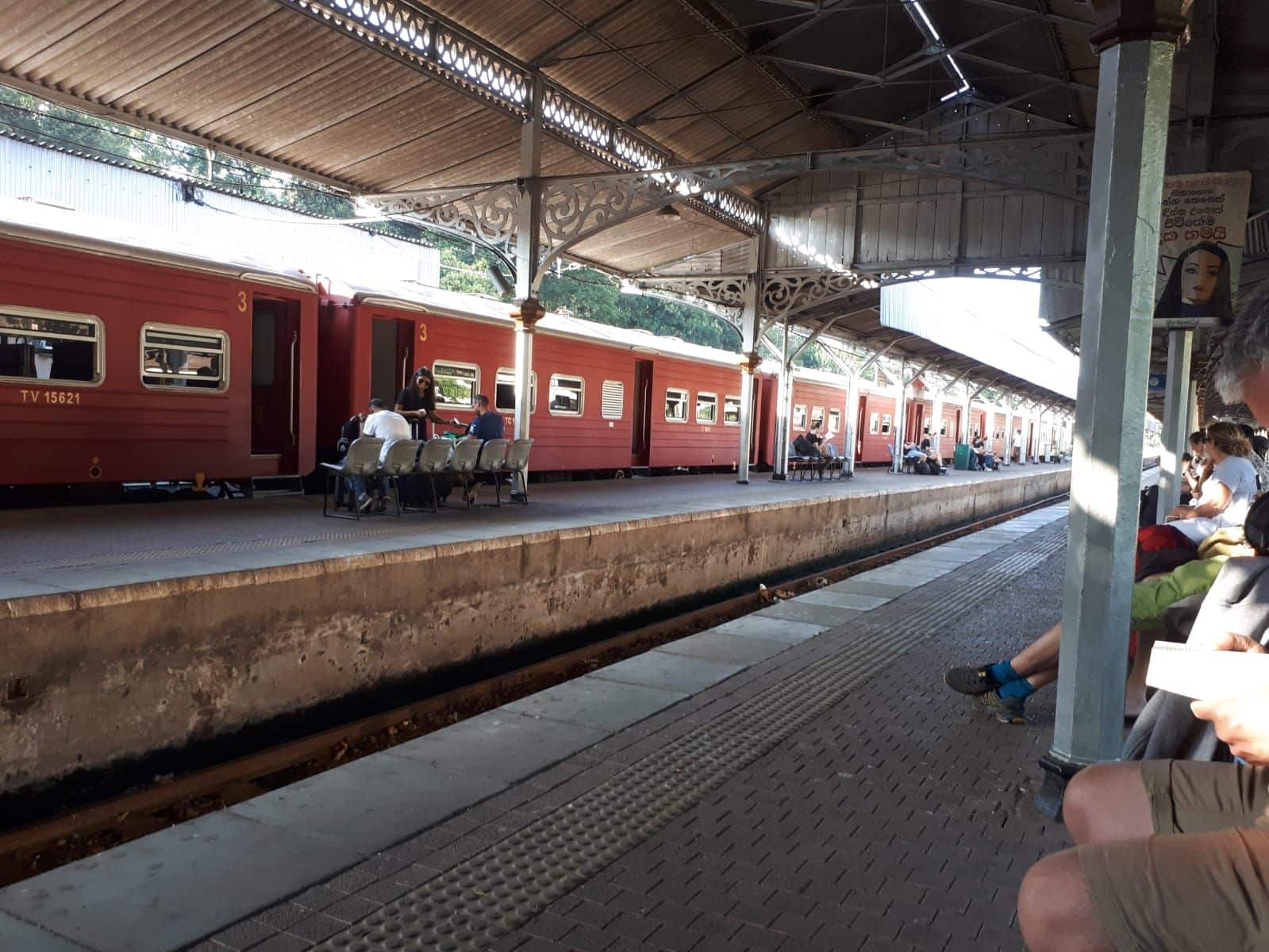 Day 9-11 Ella
From Kandy we travelled by train to Ella, this was a 7-8 hour train ride. This route is known as one of the most beautiful train routes in the world. We rode second class, since we could reserve a seat there. It was quiet comfortable, however the train did make a lot of noise and had a lot of stops. The third class would be the cheapest option, but you're not able to reserve seats there. You could be unlucky and have to stand for a long time. First class is of course also an option however you actually have less freedom there so you might as well go second class as the difference is small anyway. Besides in the second class you can hang out the doors of the wagons.
Day 11-15 Mirissa
From Ella we travelled by bus to Mirissa. This was a pretty long ride for us since we had to stand for hours and it was quiet cramped in the bus. There was one bathroom break, but this was really short, which made us almost miss our bus. Fortunately we made it just in time!
Day 15-16 Galle
From Mirissa it was only a short bus ride to Galle. We had to stand for a little while before we could sit down. In some buses we had to pay extra for the backpacks. In some cases the backpacks were put in the storage space in the back of the bus. Usually if this was the case we weren't charged for it, however if they had to sacrifice a seat for the baggage we were asked to pay for it. This was never a large amount though.

The last day we traveled back from Galle to the airport by taxi. We booked this taxi beforehand so we'd know what the price would be. This was our route for Sri Lanka, which took us 16 days.