At the end of July, we went to Delft for a day. We had a great time and loved our time spent there. This town is different from others. It has many old and beautiful buildings everywhere you look. Today We will share our experience, activities and recommendations for Delft.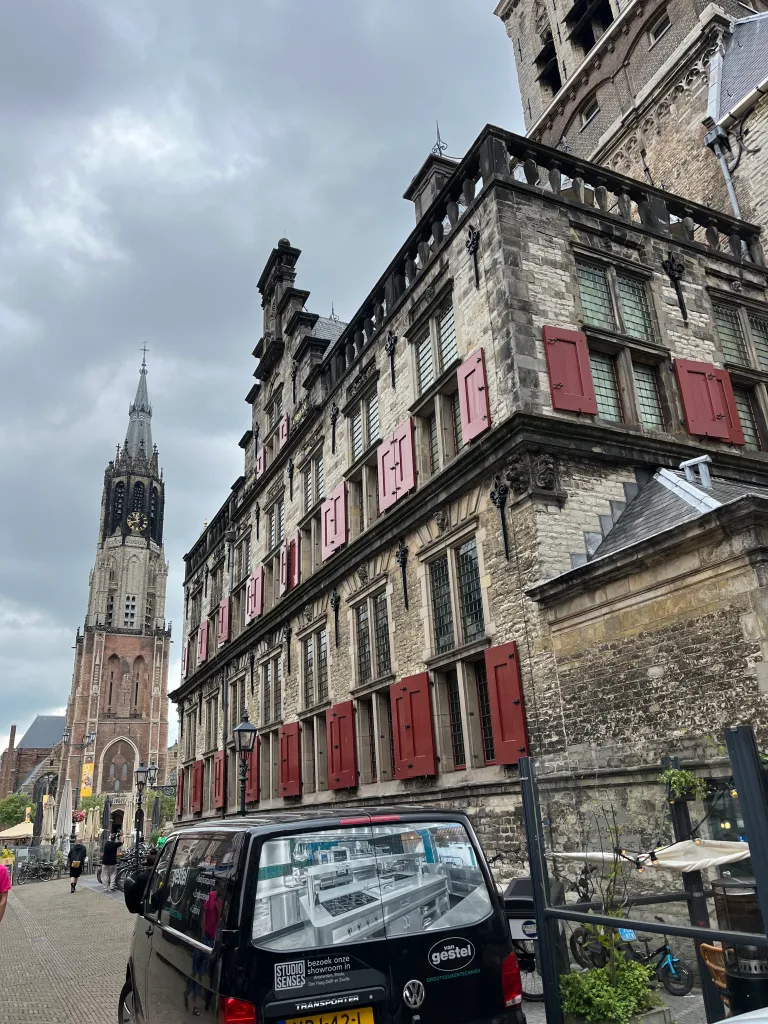 We went to Delft by train. When we arrived, we started walking from the train station to the center, which is within a short walking distance. We walked along the canals. We enjoyed beautiful buildings like the old church and the new church, as well as the many bridges and the old buildings along the streets. If you want a better view of the city center, you can climb the new church for a good view.
Canal cruise
We made a cruise at the canals with the company 'Canal Cruises Delft' (or in Dutch: rondvaart Delft). A ticket costs 12,50 euros per adult and 5,50 for kids under 16. Until they're 4 years old, kids can go for free. We loved the cruise since they told us many interesting facts about Delft. We learned a lot on the cruise and enjoyed the views from the water. The seats on the boat were not that comfortable. However, this was fine for the hour we spent on the boat. We recommend going on this canal cruise to learn more about Delft and its history. We got some discount tickets through the NS (the Dutch train company) for this trip. You might be able to find a discount online as well.
Shops
Many shops in Delft are worth visiting. For example, shops for (second hand) clothing, a shop where you can buy the famous Delft Blue decorations, and shops with food. We liked de Lelie, a shop with handmade chocolates and ice cream. Dille and Kamille is a retail chain that has shops in many cities. They sell mostly kitchen tools, food items, and decorations.
We went on a Monday, and unfortunately, not every shop was open. We would have liked to visit Winkeltje Kouwenhoven, with all kinds of candies from our childhood and more. Bakker Suikerbuik is a bakery that we would have loved to visit. They're most known for their Delftse Bol. This is a pastry with whipped cream inside and covered with chocolate.
Restaurants
There are many restaurants and terraces in Delft. There were so many that we didn't have the time to try them all. We made a selection of some restaurants that we recommend in this article.