During summer we sometimes like to buy some different beers and try them. This time we bought three of our previous favorite summer beers/ciders. There is a cider, wheat beer, and a Radler. In this article, we will explain a little about what these drinks are like, giving you a small description of how they taste and where they're from.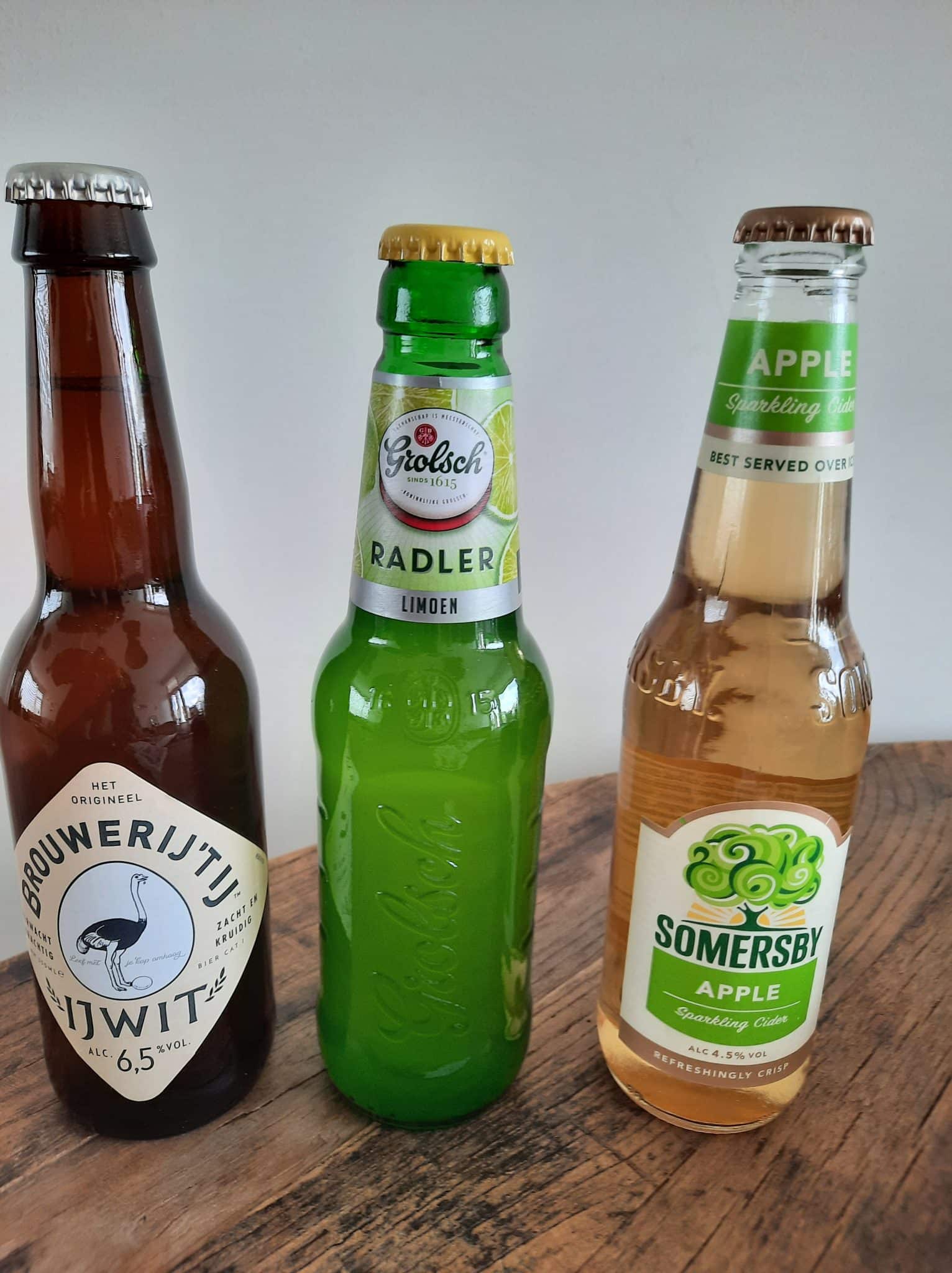 Somersby
First the apple cider from Somersby. Somersby finds its origins in Denmark. This brand is sold in multiple countries. It tastes sweet and sour as you might expect with an apple cider, you can definitely find the apple in its aroma supported by some floral tones and blooming notes. The rich apple taste combined with the lingering sweetness and smooth/pleasant levels of acidity makes this an ideal summer drink.
Brouwerij 't IJ
This wheat beer is from Brouwerij 't IJ, which brews its beers in Amsterdam. Wheat or as we know it in the Netherlands; white beer tends to taste and feel smoother or lighter than regular beer. The taste is somewhat less bitter than beer usually is.
IJwit stands for eggwhite, doesn't necessarily sound very appetizing but let me convince you otherwise.
The "IJwit" is slightly cloudy, beautiful gold in color, and with a nice, soft foam head. Like any wheat beer brewed with a portion of wheat malt, from which the beer derives its name ("wit" which translates to "white" is an old Dutch word for wheat).
The wheat malt gives the beer its refreshing character. The addition of coriander seeds and lemon during brewing provides a spicy hint with a note of citrus. The fine, slightly sweet aftertaste makes the IJwit a great thirst quencher.
Grolsch Radler
The Radler that we chose is a Radler with lime from Grolsch (a Dutch beer company). Most Radlers are made with lemon, which is also the most well-known variant of Radlers. However this variant with lime has a slightly more refreshing effect when you're drinking it and the taste is a little more powerful and well-rounded. This makes sense as this Radler was made with limes, lemons, and oranges giving it a richer balance. It's also slightly lower in sugars than the usual Radler, a great drink when enjoying the sun or when taking a break from riding your bike or in german "Fahrrad" which is where the name Radler finds its origins.
These were our favorite three summer beers/ciders! Which are your favorites?