This apple pie recipe is extra special as it's the recipe that Rody received from his mother who received it from his grandmother. It's an easy recipe to make, preparing the apples takes some time but other than that it's actually pretty quick too. We will share some tips for variations on this recipe at the bottom of the post. Have lots of fun baking Grandma's Apple Pie!
🍽 about 12 portions
⏲ 35-40 minutes
⏳ 75 minutes
Ingredients
5-7 apples, depending on the size of the apple
8 grams of vanilla sugar (1,5 teaspoons)
350 grams of self-raising flour (2 and 2/3 cups)
150 grams of brown caster sugar (1/2 and 1/3 cups)
175 grams of butter at room temperature (small 3/4 cup)
1 egg
8 grams of custard powder (2 teaspoons)
A pinch of salt
1 teaspoon of cinnamon (or more according to taste)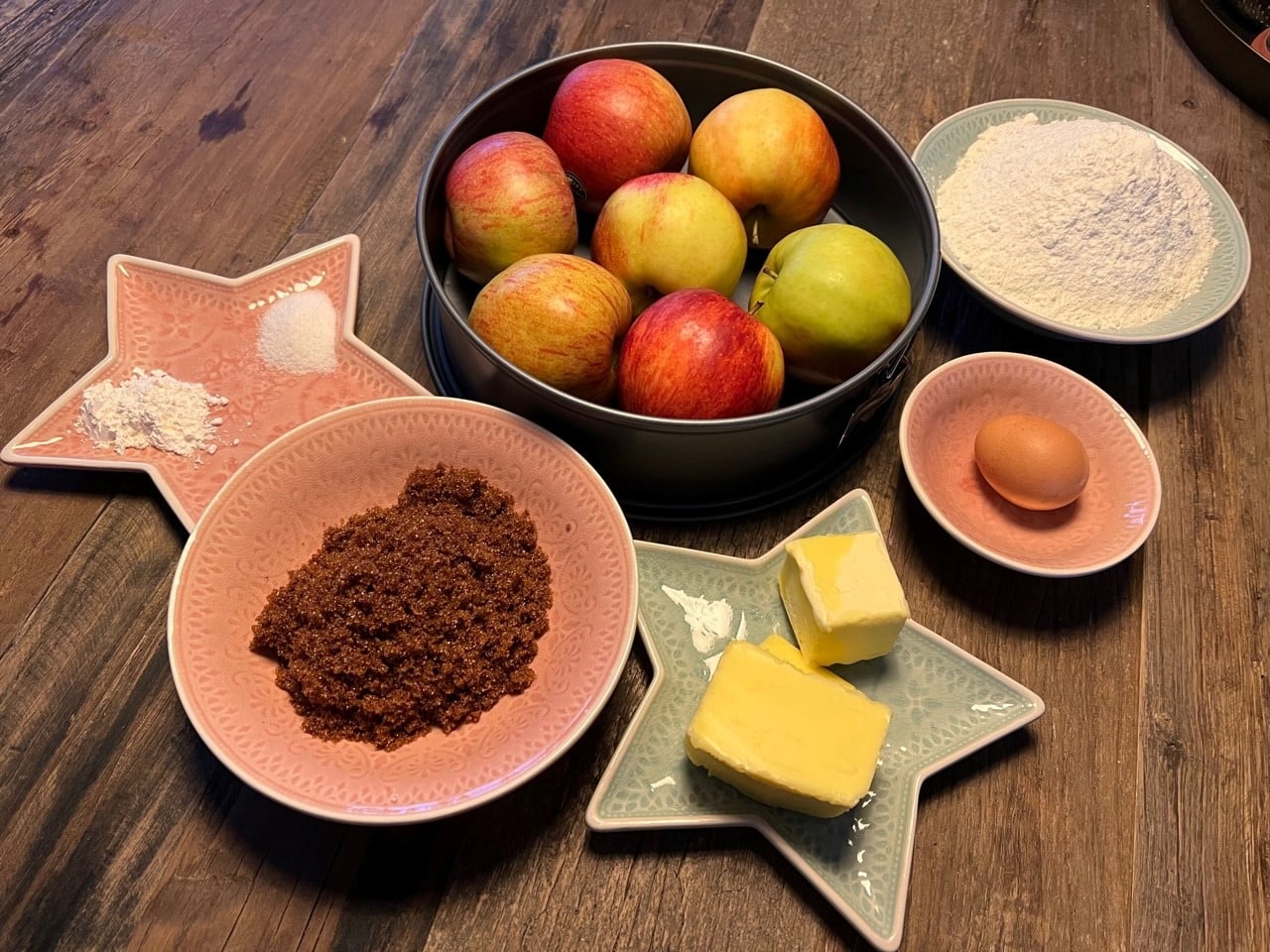 How to make it?
Preheat the oven at 180 degrees Celsius. Peel the apples and cut them into slices. Mix the butter so that it gets smooth, we did this with the food processor, if you don't have one you can also melt the butter in a pan. Add the self-raising flour, egg, caster sugar, and salt to the butter and mix until it's a smooth dough. We did the last part by hand since this is much easier.
Grease the cake mold and add some flour to prevent the dough from sticking to the mold. Then add about half of the dough (a thin layer) to the bottom and edge of the mold. Add the vanilla sugar, cinnamon, and custard powder to the apples and mix them well. Add the apples to the cake mold and divide it so that there are no big gaps. Make a few rolls of the leftover dough and add that on top of the apples. Bake the pie for about 75 minutes in the oven.
Tips
You can add some biscuit spices to the dough to make it more interesting.
Use the peel of the apple to make an apple caramel sauce. You can add this to the apples before putting them into the cake mold, use it in other dishes, or in any other situation an apple caramel can be used!
Make sure the top layer doesn't close off the cake: You don't want the steam from the apples to be stuck in the cake.
If you want to make it extra ripe and tasteful, you can experiment with drying or baking the apples before putting them in the cake. Do be careful about burning the apples when they're in the cake in the oven later though.
Grandma's Applie Pie is an ideal recipe for winter. This pie is a perfect combination with our hot chocolate recipe.